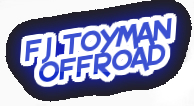 About Us:
FJTOYMANOFFROAD.COM (a.k.a FJTOYMAN) products are well-known within the Toyota FJ Cruiser community. Please take a look around at our revised website. We have also added a product or two to our product lineup.
Get your rig ready today to hit your favorite local trail or (OHV) park.
If you need assistance please contact us using our Contact page or email us at info@fjtoymanoffroad.com .